Rewind TV: The Avengers "Too Many Christmas Trees"
As we await the latest Doctor Who Christmas Special, how about sampling another Christmas themed special of long ago?

I love The Avengers. I never really saw the repeats until I was in my early teens in the 1980s, but I thought it was remarkable then, and still think it's remarkable now. It shares some real ties with Doctor Who in that it was also originally the brainchild of Sydney Newman, and featured creative talent, like Terry Nation, who would also go on to work for Doctor Who. It was also the show that first featured a sneaky screen acknowledgement of the success of our favourite show, with toy Daleks seen behind Mrs Peel in a department store in the episode Death at Bargain Prices.
This is the episode we're looking at, Too Many Christmas Trees. For those unfamiliar with the series, there is an introduction just after this video for you to read, if you wish.
The Avengers
Charge of the Trenchcoat brigade. Steed and Dr. Keel
The ever-present character throughout The Avengers was John Steed (Patrick Macnee), who has partnered with a number of "companions" over the years, just like the Doctor. In the first series (1961), with Dr. David Keel (Ian Hendry), Steed was a shadowy figure with uncertain motivations. Unfortunately, virtually all of their adventures were wiped, demonstrating that it wasn't just the BBC who could be short-sighted. The missing episodes include an appearance by Roger Delgado, which is ….disappointing (for me).
Hendry left after one series. He'd been disappointed that filming had been impacted by a strike, and film work beckoned. In 1962, Steed was partnered with three on-off companions. Everyone seems to forget Dr. Martin King (Jon Rollason), and Venus Smith (Julie Stevens), largely because of the third. Dr. Catherine Gale (Honor Blackman), was an independent widow of means with a taste in black leather, kinky boots (link to YouTube) and unarmed combat. Steed was still seen as slightly untrustworthy, but was allowed to thaw, to become more playful and demonstrate real affection. Cathy Gale was a revelation at the time. She demanded respect, and she got it. She was his sole partner for the third series in 1963.
Now we come to possibly the most popular period of the show, and up to date for this episode. Diana Rigg joined as Mrs Emma Peel, an old friend of Steed who had become a presumed young widow. Also kick-ass and independent, her period saw a transition to higher quality film, then to colour. The show often dipped into more sci-fi and fantasy concepts such as the robotic assassins in The Cybernauts, It became a minor sensation in the US with ABC buying the rights to show the first Emma Peel series in 1965 for a record (at the time) $2m.
Absolutely knowing in its approach to the emerging tropes of television, The Avengers started playing with them. The flirtation between Steed and Emma is breathtaking. It's an astonishing partnership for many reasons – absolutely played as equals with a man and woman just comfortable in each others company.
Too many Christmas Trees appeared in her first year, in B&W. It's actually the antidote to mawkish and sentimental Christmas specials, which is why I'm suggesting it. Elegantly spooky, a section of it features a Dickensian party, which it's worth noting was a direct assault on what was seen even then as a TV obsession with Dickensian Christmas. Full of in-jokes, with some marvellous guest performances I don't think anyone who dips in will be disappointed.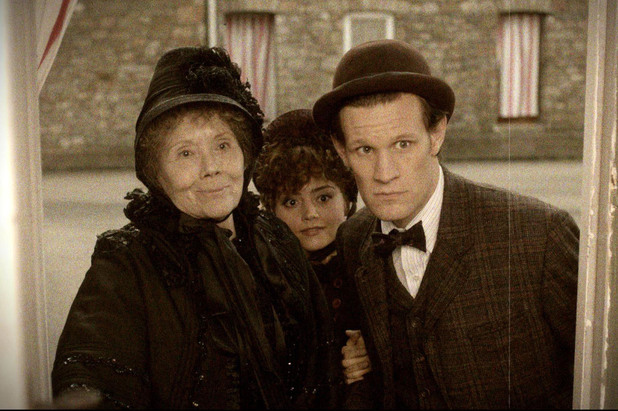 Fifty-one episodes of battling insane Machiavellian fiends was obviously time well spent for Dame Diana Rigg, enabling her to study the form to play the marvellous Mrs. Gillyflower in The Crimson Horror (link to forum discussion). Coincidently (or not), opposite another odd-ball in a hat.
And yes, read that timing counter and weep. In 1965 you tuned into an hour of television drama and got only Eight minutes of adverts. How times change.
Buy it
Everyone should own some Avengers. It'll probably improve your life.
| | |
| --- | --- |
| | Individual Box sets are available for each Series. Series 4 contains all 26 episodes, including "A Touch of Brimstone", an episode that was considered too kinky for a 60s US Audience (while being a firm favourite at Television conventions for industry insiders).The Avengers: The Complete Series 4 [DVD] |
| | Or you could dent your Bank balance with the Complete Avengers Box set. That's all remaining 157 episodes in a gift set with more special features than you can shake a brolly at.The Complete Avengers 50th Anniversary Edition [DVD] |