Dear Santa: Your Christmas Presents for a Doctor Who Fan
Our resident bewildered man-boy, Phaseshift, takes a look at the true meaning of the Christmas season for many – Presents!

(Cue violins)…ee! When I were a lad, a Doctor Who Christmas meant opening your trusty Doctor Who Annual, and pretending your Satsuma was a Sontaran Fragmentation Grenade! Not so anymore, with an astonishing range of merchandise for young and old children to drool over.
Happily, as I grew up, I managed to avoid that entire slippers/aftershave/whatever-was-left-in-the-garage-on-Christmas- Eve type scenario many adults are familiar with, by being an out-of-the-closet geek.
Yes, after careful training, people buy me stuff I actually like! So – as you are Doctor Who fans, has anything caught your eye for this Christmas? Fancy writing a Dear Santa in the comments below? If so, don't forget to tell us why you've been a good boy/girl/unisex clone warrior this year!
Here are a few items from me, and a note about why they are worthy of your consideration:
The "not-so-obvious" Obvious Present
I'm not going to dwell on this one too long, as people never buy me DVDs for Christmas. They're never quite sure what I have, which can be a real problem if you want to ensure a look of delighted surprise, rather than the question "do you have the receipt for this". If, however you know someone who wants to sample old school delights, or if you have been following our BG episode adventures, perhaps you'd like a quick run-down of a couple of stories that we almost went for, and may wish to check out?

We narrowly went for Tomb of the Cybermen over The Mind Robber, but that takes nothing away from this marvellous adventure. The Second Doctor, Jamie and Zoe enter a bizarre Land of Fiction. It shows that Doctor Who has never been afraid to explore the possibilities of fantasy.

Buy Doctor Who: Mind Robber (DVD)
,£5.49 at the BBC shop.

There was healthy speculation about the mirroring of the name Day of the Doctor to this story, The Day of the Daleks, which sees the Third Doctor confronting a time paradox that has ensured a Dalek invasion. Find out if there are parallels in a rare excursion into the complications of Time Paradox in the early series.

Buy Doctor Who: The Day of the Daleks (DVD)
, £5.49 at the BBC shop.

Ghost Light, with its oblique storytelling got a mixed reaction in our retrospective, but this alternative for the Seventh Doctor is a gem. A tale of vampires and Norse legend, it also reveals the answer to a number of questions the audience had about his companion, Ace.

Buy Doctor Who: Curse of Fenric (DVD)
, £5.49 at the BBC shop.

Robots of Death is a stone cold classic for the Fourth Doctor, and sees him take Leela on her first trip. It's available in a box set with Tomb of the Cybermen and The Three Doctors. That's an awful lot of Doctor for the money.

Buy Doctor Who: Revisitations 3 (DVD), £12.47 at Amazon.
You Mug!
Not an insult, a suggestion! A humble mug can be a seasonal treat, if you immediately fill it with something seasonal. Top Phaseshift tip – I always find a warm mulled wine (or four) is the perfect pick-me-up first thing on a Christmas Day amidst the chaos.

I had this one last year, and very useful it was too. It's not chipped even under the tortures of my leaden mitts, has contained many beverages, and has been a constant source of good advice whenever I'm confronted with statues. Result!

Buy Keep Calm and Don't Blink Mug, £10.95 at Amazon.

This year, to continue the theme of Doctor Who World War iconic images, I'm hoping Santa will bless me with this "To Victory" Mug, based on the poster that Churchill had commissioned in Victory of the Daleks.

Buy Daleks "To Victory" Mug, £10.95 at Amazon.
Accessorise Darling!
Lets face it – work clothes are boring if you wear a suit. Bring some Who magic with you to work with cufflinks. Less "look at me – aren't I a card" than a novelty tie, it's one of those bizarre things that you wear one set of cufflinks in company and people will forever associate you with them. I own eight times as many pairs of cufflinks than shirts officially made for cufflinks at any one time. At least I'm never short of variety!

These Tardises are apparently made of rubber, and may be attractive to a certain type of fetishist.

Buy TARDIS Cufflinks, £9.00 at Amazon.

Personally, I quite fancy these slightly more expensive ones, featuring the Cybermen "hieroglyphic" from Tomb of the Cybermen. That's a classic piece of sixties iconography in Pewter.

Buy Cybermen Cufflinks, £14.99 at BBC Shop.

You need to look your best in any situation, so why not cover yourself in towling for a relaxing Christmas? Yes, be warm and look like the Tardis. (Male Model not included).
Buy TARDIS Fleece Bathrobe, £36.50 at Amazon.
Graphic Violence!
If you were intrigued by @Wolfweed s blog on Doctor Who comics, and fancy giving the Graphic Novel style collections a whirl, why not have a couple of recommendations?

The Marvel UK run started with the Fourth Doctor and is presented in it's original glorious monochrome nature in this first collection. Featuring Robot Romans, Cruel Furry Animals and a City without emotions, discover what made young PhaseShift very happy.
Buy the Iron Legion Collection, £11.24 at Amazon.

Wolfweed is a big fan of this, and I recommend it as the ultimate way of enjoying Doctor Six. Voyager is a masterpiece of fantasy whimsy.
Buy the Voyager Collection, £15.99 at Amazon.

Perhaps it's time you met the Eighth Doctor beyond the Movie? Featuring some stories that would directly impact the way that Doctor Who would come back, this final collection (4 of 4 for Doctor Eight)is well worth the investment. It includes the epic "The Flood", a tale of Cybermen with added religion upgrade.
Buy the Flood Collection, £10.87 at Amazon.
Bookworm
We all love a book at Christmas don't we? It's an exciting period for Who books, with a wealth of new material being released, and an opportunity to wallow in nostalgia or introduce the young to old materials.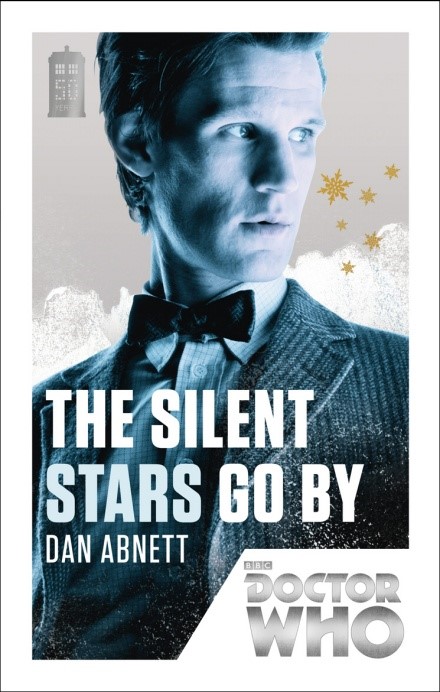 This Christmas obviously sees the true fall of Eleven, and if you know someone who is going to be deeply traumatised by this event, you can prepare for the moment. How about "The Silent Stars go by" from Dan Abnett? Remind them that there are always tales untold, such as Eleven, Amy and Rory in an engaging tale featuring Ice Warriors?
Buy Silent Stars go by, £5.75 at Amazon.

Twelve of the Target novelisations I discussed here have been re-released with introductions from famous writers. The Loch Ness Monster (Terror of the Zygons)s is introduced by Michael Moorcock, and is perfect for the Parent who wishes to indulge in some misty eyed nostalgia, or introduce the younger generation to the Zygons first appearance.

Buy Doctor Who and the Loch Ness Monster, £3.74 at Amazon.

Puffin see their year long celebration of all Eleven Doctors in short stories by famous Children's writers get a collected anthology release. That's one story per Doctor.
Buy 11 Doctors 11 Stories, £9.09 at Amazon.

I've mentioned this before, but one more time. With a high quality of contributors this is a charming delve into memories of Doctor Who from people on the show, to celebrity fans. It inspired our own section and, for a book about memories, raises money for Alzheimer's research. The Guardian featured the contribution by Terry Pratchett.

Buy Behind the Sofa ,£5.75 at Amazon.

One I got last Christmas that's definitely worth a look is A History of the Universe in 100 Objects. Starting with The Urns of Krop Tor (Before Time) to Toclafane (Year 100,000,000,000,000) this chronology of the Whoniverse makes some odd choices on occasion to highlight some periods, but usually there is a storytelling point to be made (Tegan Jovanka's Lipstick for the Big Bang, as an example). Beautifully illustrated and encompassing the history of the show, it's a great coffee table book.
Buy History of the Universe in 100 Objects, £12.00 at Amazon.
It's Educational! (Honest)
When designing the perfect bedroom for Lily and Cyril in The Doctor, the Widow and the Wardrobe, the Doctor made sure he built a Sciency Wiency workbench. I approve, and maybe you should consider doing so as well?

The Silurians use Crystal Science (apparently) which is an excuse to grow your own. This was a popular pastime in my University labs, with long running sweepstakes on who could grow the largest crystals. The contents of this pack are a lot less hazardous than the material we used though. Not so explodey-wodey.

Buy the Doctor Who Silurian Crystal Lab
, £22.99 at BBC Shop.

OK – Who wouldn't want a Cyberhead that scurries about on wheels? This set enables you to "UPGRADE" the head to take a variety of control signals (including your TV remote), making it a fun demonstration of Electronics and control.
Buy the Cybernetics Head, £8.99 at Amazon.

Loads of fun, or potential fist fights may arise if you are a family of Who fans and want to test your knowledge in a competitive arena. Anyone for "Strip" Trivial Pursuit? Now that IS educational!
Buy Doctor Who Trivial Pursuit, £9.99 at BBC Shop.
The Sound of Christmas
Carol Singing? The Queen talking about what a good year it's been for the Commonwealth? No – I'm talking about the reassuring click of two pieces of Lego being snapped together. I was bought it as a child, I bought it for young relatives as an Uncle ("helping" them put it together, of course, which means you are officially "keeping the kids occupied" and excused from tedious washing up duty). Now I'm older (and so are they) they buy it for me. We've come full circle. The Character Building range uses official lego parts, but the figures are bigger, and a bit more detailed.

A Dalek Saucer can easily fill the time while you're waiting for the Who Christmas Special.It comes complete with a Dalek Skimmer. If you get into difficulties, collar a small child to help you with the tricky bits.
Buy the CB Dalek Saucer, £11.53 at Amazon.

Alternatively, you may wish to plan your own continuation of the endless war between the Silence and the Doctor with this interior of their Time Ship. Seriously, that could be too much trouble for one Time Lord…
Buy the CB Silent Time Machine, £9.98 at Amazon.

So best get the full set. Eleven Doctors will sort them out! The Sixth Doctor has never looked so cute. They come in an attractive TARDIS shaped package.
Buy CB 50th Anniversary Doctors set, £17.03 at Amazon.

If anyone asks you why you are buggering about with lego, tell them you are building next years Christmas Decorations. I shall demonstrate this later in the month with pictures of my own genre tree, which is slightly more fun (and cheaper) than buying the officially sanctioned ones available here.
Buy Doctor Who Decorations Set, £44.99 at BBC Shop.
The Phaseshift Merchandising Awards 2013
The "Terrify Your Pet" Award 2013
Won in previous years by various models of remote control Dalek, this years worthy winner is the Bump and Go Cybermat. The Judges felt that the randomness of the bump and go mechanism once activated introduces an air of unpredictability which will have the average household pet weeing itself in fear!

Buy it from Amazon for £7.90.
The "WTF?" Award 2013
Seriously?! A Mr Potato Head Eleventh Doctor? The judges were at a complete loss to explain the existence of this one. Is it so Strax can make a rare Potato joke about the Doctor?
Buy it from Amazon for £16.95
The "Ooooh, hasn't Santa been generous this Year?" Award 2013
This TARDIS is a full 2.1 speaker system for mobile devices with Bluetooth connectivity. Since people have uploaded and downloaded their music collections to mobile devices, it's become more difficult to inflict your musical tastes on other people. This solves that problem quite nicely. Crank it up to 11! While synching to your device it makes the sound of the TARDIS materialising.
Buy it at BBC Shop for £150.00
Don't forget to tell us what Santa should be bringing YOU.
Please note: All the links are new affiliate links to the sites in question. Using them does nothing to the price you pay, but the Site gets a nominal fee which is used to offset the costs of maintaining this website. All prices correct at time of publishing, but obviously subject to change. If you have any queries regarding this, please PM @Phaseshift or @Craig.